【Supported by SCAA】 17 May 2022 (Tuesday) - Unlocking ESG opportunities: Explore how ESG impacts business value
Dear Members,
【Supported by SCAA】 17 May 2022 (Tuesday) - Unlocking ESG opportunities: Explore how ESG impacts business value
(SCAA is a supporting organization to this ESG Webinar)
Details information of Webinar :
The coronavirus pandemic accelerates the interconnectedness between sustainability and the financial market, with responsible investing being on the trajectory to the mainstream. Better ESG performing companies are associated with lower risks and higher returns, which can be reflected in the company's value. Hence, establishing a systematic approach to integrate ESG factors into fair value calculation is of paramount importance for optimizing investment strategy.
In the first part of the seminar, our speaker, Mr Kenson Yeung of Jones Lang LaSalle will highlight the impacts of ESG on companies' growth, credit ratings and financial performance. In the second part of the seminar, Ms. Kit-fong Law from CLP, will share how their reporting approach evolves to meet the changing regulatory requirements and stakeholder expectations.
Event details:
| | |
| --- | --- |
| Registration: | |
| Date : | 17 May 2022 |
| Time : | 7:00 – 8:30 pm |
| Venue : | webinar via zoom |
| Fee : | $100 for members of AWAHK, SCAA & ACCA; $150 for non members |
| CPD : | 1.5 hours |
| Language : | Cantonese |
Speakers' Profiles: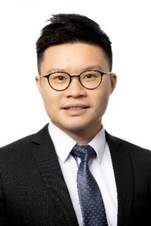 Mr Kenson Yeung
Director
Jones Lang LaSalle Corporate Appraisal and Advisory Limited
Kenson has over 12 years in business valuations field and in the past 7 years, he has also been providing ESG reporting and advisory services to Hong Kong listed companies in accordance with ESG Reporting Guide published by the Hong Kong Stock Exchange. He is responsible for ESG reporting, calculating greenhouse gases and carbon footprint directly or indirectly generated, as well as advising clients how to set KPIs and action plans for improvements in the short and long terms.
Kenson holds the Certificate in ESG Investing issued by the CFA Institute. He is a Chartered Financial Analyst (CFA) charterholder, Member of the Royal Institution of Chartered Surveyors (MRICS), certified Financial Risk Manager (FRM) holder and Chartered Alternative Investment Analyst (CAIA) charterholder.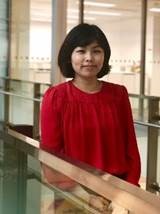 Ms Kit-fong Law
Manager – Group Sustainability
CLP Power Hong Kong Limited
Kit leads the work of sustainability analytics, performance and reporting in CLP, which is one of the largest investor-owned power businesses in Asia Pacific. She is spearheading the Company's sustainability strategy and embeds it across the Group's business in Hong Kong and overseas. She uses scenario analysis to assess and enhance the climate strategy resilience and embed sustainability into risk management. She is also leading CLP's ESG communications through the annual sustainability report, investor indices and related engagement.
Kit is a delegate in the WBCSD Leadership Programme 2018. She holds BSc in Biochemistry and MPhil degrees from the University of Hong Kong, and was a Chevening scholar at the London School of Economics and Political Science, where she received an MSc degree in Development Studies.
Please e-register immediately. Enrollment is made on a first come first served basis with priority to AWAHK members.
Remarks : In order to secure your seat, please send your payment using one of the following methods.
AWAHK Payment Methods :
1. By PayMe (kindly please help state the event date/name at the remark for our easy reference to trace payment):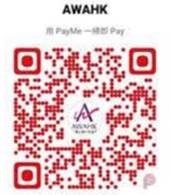 2. Cheque made payable to "AWAHK" (with the name of participant marked at the back of the cheque), sent to:
Suite B 20/F C.M.A Building 64 Connaught Road Central Hong Kong